Windows 8 – The Next-Gen Windows OS
Last Wednesday Microsoft unveiled its Windows 8 Preview in Barcelona.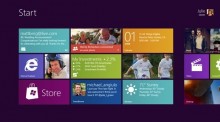 Last September Caboodle wrote an article about Windows 8 http://caboodlemedia.co.uk/news/110/windows-8-imminent-release and last Wednesday Microsoft unveiled its Windows 8 Preview in Barcelona.
For those of us who could not be at the event, there are a series of online videos on the Microsoft Newsroom page showing off the highlights of the promo, including a look at the Windows 8 Start screen, a gimpse at Windows 8 on an 82 inch monitor, plus demo on the new OS with a mouse and keyboard. Also there is the opportunity to download and install the new OS which packs a variety of improvements compared to the Developer Preview released last year.
Whats changed? The round Start button is gone, the Metro-style Start screen remains and you can pick from a limited number of nine colours and five patterns for the Start screen background.
However, there is so much more to the Consumer Preview user interface than the Start screen, and far more to Windows 8 than the user interface, including a variety of ways of switching between apps and extra updates to the desktop tools. There are changes underway with regards to file copying, power management, security, networking, hardware support and beyond.
And then there are the first real Metro apps, so you can discover what it is to use Metro, and the Windows Store for the purchase of the first ever third party apps from real developers. Also there are the Bing applications such as the Finance App which provides users with fast access to overviews of key market indices, enabling us to stay abreast of the fast changing market conditions as well as the latest mortgage and credit card rates.
We love the power shortcuts that work from any Metro app, from Start, or from the Windows desktop as well as the feature that allows us to capture a screenshot directly rather than the old version where we would take a screenshot by hitting the PrtScr, which saved it to the Clipboard.
The apps have been designed to be used on touch-enabled devices, but can be used with a keyboard and mouse as well, which brings us to the main criticism of Microsoft's new os. There is some concern that Microsoft is making a mistake of trying to be all things to all people rather than being innovative. But initial reactions seem to signify that Microsoft is doing an effective job in aiming the consumer toward both the PC and tablet.
Nicely done Microsoft, but it is a shame that you didn't' crack this five or six years ago. Many users will be sticking with their iOS and Macintosh as platforms of choice but it is obvious that everyone benefits as each option improves.
The web sites are second to none and the overall package that Caboodle offers is ideal for the likes of Life who are looking for responsive, professional web design combined with marketing solutions that make web marketing efficient and effective.